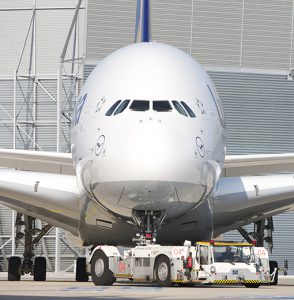 Use of the brand names of the absorbed GSE companies (Tracma, Albret, Erma, Devtec and Cochran Western-Lantis) was discontinued in 2002, to be replaced by one brand: TLD.
In 2002, TLD relocated its loaders' factory from California to Sherbrooke, Canada and the passenger stairs product range from Montpellier to Saint Lin, France.
In 2006, the TLD ownership structure changed from a listed to a privately owned company, and was acquired by ALVEST, a company specially formed by AXA Private Equity in partnership with the TLD group management. In 2008, SAGE PARTS, the leading provider of GSE replacement parts, also joined the ALVEST group.
In 2013, the group management & LBO France acquired ALVEST from AXA Private Equity, further strengthening the continuity and direction of the group.
The group opened its first factory in China in 1997. Following the Shanghai plant, a second factory was opened in Wuxi in 2008. The Wuxi plant was moved to a larger, purpose built site in 2012.
Many large engineering projects have benefited from TLD's technical expertise in ground support equipment. After designing large cargo loaders in the 90's to load AIRBUS BELUGA, TLD was also chosen more recently by BOEING for the design and manufacture of giant cargo loaders and transporters to load sections of the Boeing 787 Dreamliner into the Dreamlifter, a modified Boeing 747 special freighter.
In 2009, TLD started its engineering and manufacturing cooperation for the ambitious TaxiBot program.
TLD's growth continues in 2014 with a new factory for the TaxiBot program. In addition the TLD Windsor site is expanding by 4,645 sqm (50,000 sq.ft) of building to cope with the development of its commercial GSE business and the deployment of heavy military engineering programs.
TLD has become a truly global company with a large international industrial, distribution and service footprint, and a wide and diversified customer base. Each year the Group extends its customer support network through the opening of new offices. Today, TLD is proud to offer the most extensive network in the GSE industry, with more than 30 sales & service offices dedicated to customer support spread around the world.