FROM SILK TO METAL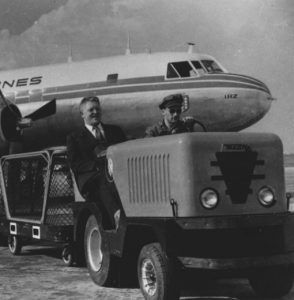 The TLD Group originates from the 1897 silk weaving workshop Mulatier et Dupont, based in Lyon, France. Over time, the company moved away from silk weaving and became a steel manufacturing business.
The company saw further expansion in the 1930's thanks to a cooperation with Compagnie Générale d'Electricité, which lasted for more than two decades.
DIVERSIFICATION, EXPANSION AND A FOCUS ON GROUND SUPPORT EQUIPMENT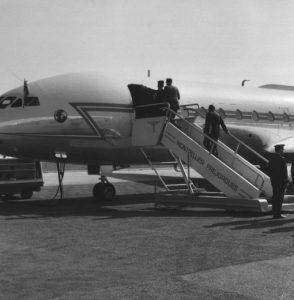 In 1951 the company was listed on the Paris Stock Exchange under its new name Tissmétal Lionel-Dupont. It ventured into diversified engineering businesses with a focus on the newer technological markets of electro-mechanical industry, automated handling systems, synthetic fibers, industrial filtration, and aeronautical equipment. When the company sold its metal manufacturing business in 1985, it was renamed Teleflex Lionel-Dupont (TLD).
The group created its Ground Support Equipment division between 1990 to 1992. Already present in the airport sector with its baggage handling system business, several companies were acquired in both France and USA: TRACMA, ALBRET, ERMA, DEVTEC and COCHRAN WESTERN – LANTIS.
TRACMA (baggage tractors and aircraft tractors) and ALBRET (passengers stairs and lavatory and water trucks) were acquired in 1990. They were well known brands, predominantly active in French speaking countries. In 1991, TLD acquired ERMA, a company that had a complementary line of products (belt loaders, transporters and catering trucks) and was oriented toward export. Following these acquisitions, TLD had become a dominant player in the European GSE market, but still lacked a presence in the American and Asian markets.
In order to expand into these markets, TLD acquired DEVTEC Corp (USA) in 1991 and its two subsidiaries Accessory, Controls and Equipment (ACE) and DEVTEC Co (Hong Kong). In 1992, Lantis Corporation, a California based company specialized in manufacturing cargo loaders , was added to the TLD Group.
Following these acquisitions, TLD was able to offer a complete range of GSE products and an international sales and service network. The Group was rapidly becoming a leading global supplier of Airport Ground Support Equipment. The phase for operational integration of these companies lasted for several years in order to best take into account the history, culture and people of each merged company.
At the time a mid-sized company facing the globalization challenge, TLD once again embraced the newest technologies available and began to use internet based information systems. As early as 1994, TLD relied upon the internet to better communicate and share engineering resources. In 1996, the various teams of TLD were ready to work together as one.
In parallel with the creation of its GSE division, Teleflex Lionel-Dupont sold off its industrial filtration, baggage handling systems and aeronautical equipment divisions between 1992 and 1998 in order to focus on Aviation Ground Support Equipment.
BUILDING A GROUND SUPPORT EQUIPMENT LEADER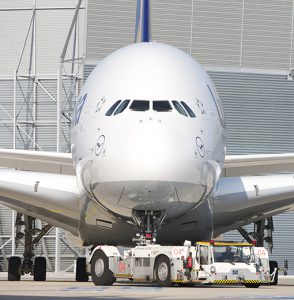 Use of the brand names of the absorbed GSE companies (Tracma, Albret, Erma, Devtec and Cochran Western-Lantis) was discontinued in 2002, to be replaced by one brand: TLD.
In 2002, TLD relocated its loaders' factory from California to Sherbrooke, Canada and the passenger stairs product range from Montpellier to Saint Lin, France.
In 2006, the TLD ownership structure changed from a listed to a privately owned company, and was acquired by ALVEST, a company specially formed by AXA Private Equity in partnership with the TLD group management. In 2008, SAGE PARTS, the leading provider of GSE replacement parts, also joined the ALVEST group.
In 2013, the group management & LBO France acquired ALVEST from AXA Private Equity, further strengthening the continuity and direction of the group.
The group opened its first factory in China in 1997. Following the Shanghai plant, a second factory was opened in Wuxi in 2008. The Wuxi plant was moved to a larger, purpose built site in 2012.
Many large engineering projects have benefited from TLD's technical expertise in ground support equipment. After designing large cargo loaders in the 90's to load AIRBUS BELUGA, TLD was also chosen more recently by BOEING for the design and manufacture of giant cargo loaders and transporters to load sections of the Boeing 787 Dreamliner into the Dreamlifter, a modified Boeing 747 special freighter.
In 2009, TLD started its engineering and manufacturing cooperation for the ambitious TaxiBot program.
TLD's growth continues in 2014 with a new factory for the TaxiBot program. In addition the TLD Windsor site is expanding by 4,645 sqm (50,000 sq.ft) of building to cope with the development of its commercial GSE business and the deployment of heavy military engineering programs.
TLD has become a truly global company with a large international industrial, distribution and service footprint, and a wide and diversified customer base. Each year the Group extends its customer support network through the opening of new offices. Today, TLD is proud to offer the most extensive network in the GSE industry, with more than 30 sales & service offices dedicated to customer support spread around the world.
A LEANER AND GREENER FUTURE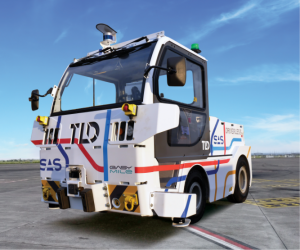 Following-up on the accelerated growth of the Alvest group in the past decade, TLD continues to develop its market share by expanding its service & support capabilities across the world.
To further develop the capabilities of the group in 2017, the group management associated with Sargard, Ardian and CDPQ acquired ALVEST from Sagard.
For the past fives years, TLD has heavily invested in its production assets with the opening of a new factory in Shanghai and phase two of the recently built factory in Wuxi in China and the extension of both the Sherbrooke factory (Canada) as well as the Saint-Lin facility (France).
These manufacturing commitments allowed TLD to further develop the technologies of the future GSE, particularly with the growth of its TaxiBot manufacturing activity and the launch of TractEasy – the one and only high-driving automation, Level 4 autonomy that does not require any human interaction in the vehicle's operation. TractEasy® is today operating in several airports, cargo operations and factories.
Additionally, on the road to autonomous and safer GSE, TLD launched what is now a standard on the ramp, the ASD (Aircraft Safe Docking) and ASD+ technologies allowing any GSE to safely approach and dock an aircraft to prior to performing its duty.
Alvest growth continued in 2017 with the acquisition of AEROSPECIALTIES in the US, and again in 2019 with the acquisition of LEBRUN in Belgium and POWERVAMP in England.
These strategic acquisitions contributed largely to reinforce TLD's goal to help aviation become Leaner & Greener. To that extent TLD had been developing a complete range of GSE with electric drivelines for more than 20 years. From a pioneer at the beginning of the century, TLD has become a leader with the majority of its sales made on electric GSE from 2020 on. To support this surge in electric GSE demand, TLD has developed it own battery system, iBS®, a unique Li-Ion system that is so optimized that it can work without cooling, even in the Middle East.
Last year we made the choice to embark, under the ALVEST banner, on the United Nations Global Compact Program as a member of their French Chapter.
Following a year of intense work with all teams involved in the company, we have been in the position to submit our first "COP" or "Communication on Progress" to the United Nations Global Compact.
From design to manufacturing to commercializing, TLD, an ALVEST group company, is committed to follow the path laid by the United Nations Sustainable Development Goals as detailed in our Group Environmental, Social and Governance Principles. We pride ourselves in serving this purpose with the greatest care for our global eco-system.
Today, TLD is proud to offer the most extensive network in the GSE industry, with 10 factories and more than 45 sales & service offices dedicated to customer support and the continued promotion of Leaner & Greener GSE.