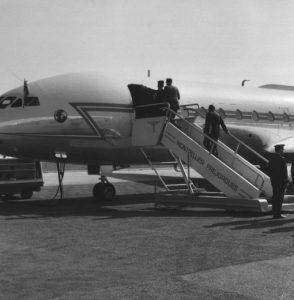 In 1951 the company was listed on the Paris Stock Exchange under its new name Tissmétal Lionel-Dupont. It ventured into diversified engineering businesses with a focus on the newer technological markets of electro-mechanical industry, automated handling systems, synthetic fibers, industrial filtration, and aeronautical equipment. When the company sold its metal manufacturing business in 1985, it was renamed Teleflex Lionel-Dupont (TLD).
The group created its Ground Support Equipment division between 1990 to 1992. Already present in the airport sector with its baggage handling system business, several companies were acquired in both France and USA: TRACMA, ALBRET, ERMA, DEVTEC and COCHRAN WESTERN – LANTIS.
TRACMA (baggage tractors and aircraft tractors) and ALBRET (passengers stairs and lavatory and water trucks) were acquired in 1990. They were well known brands, predominantly active in French speaking countries. In 1991, TLD acquired ERMA, a company that had a complementary line of products (belt loaders, transporters and catering trucks) and was oriented toward export. Following these acquisitions, TLD had become a dominant player in the European GSE market, but still lacked a presence in the American and Asian markets.
In order to expand into these markets, TLD acquired DEVTEC Corp (USA) in 1991 and its two subsidiaries Accessory, Controls and Equipment (ACE) and DEVTEC Co (Hong Kong). In 1992, Lantis Corporation, a California based company specialized in manufacturing cargo loaders , was added to the TLD Group.
Following these acquisitions, TLD was able to offer a complete range of GSE products and an international sales and service network. The Group was rapidly becoming a leading global supplier of Airport Ground Support Equipment. The phase for operational integration of these companies lasted for several years in order to best take into account the history, culture and people of each merged company.
At the time a mid-sized company facing the globalization challenge, TLD once again embraced the newest technologies available and began to use internet based information systems. As early as 1994, TLD relied upon the internet to better communicate and share engineering resources. In 1996, the various teams of TLD were ready to work together as one.
In parallel with the creation of its GSE division, Teleflex Lionel-Dupont sold off its industrial filtration, baggage handling systems and aeronautical equipment divisions between 1992 and 1998 in order to focus on Aviation Ground Support Equipment.